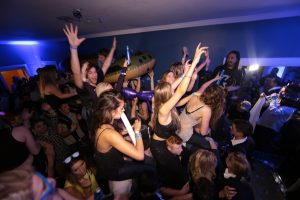 Toronto Live Dance Band
The Royz Band will excite, charm and thrill your guests with our high energy and our fun and approachable entertainment style. We will coax everyone to relax, have fun, and just dance, dance, dance from your guest arrival right through to last call.
The Royz Band will create the perfect volume, staging, lighting, look, sound, dance and party groove for your unique vision.
From ballroom to disco; dance mix to country; rock to hip-hop; latin to alternative; swing to the latest dance craze, The Royz Band will just keep the hits coming and coming all night.
Most Toronto dance parties have a wide age group and a culturally and musically diverse guest list attending. Keeping all your guests happy may seem like a lot to ask, but The Royz Band handles it with ease and with absolute pleasure!
If desired, we will put request cards on the tables for an easy and elegant way for your guests to let us know what they most want to hear! If desired, we can also include audience participation to encourage single guests (or those who might be a little shy) onto the dance floor to join in on the fun and dance and party, party, party! We will have all your guests swinging from the chandeliers and begging for more when we announce our last song.
This group of talented and respected MUSICIANS have each dedicated years to studying and performing in all musical styles. So when we say that we perform all dance styles with authenticity and artistry, we mean just that.
Whether you choose the INCREDIBLE TRIO, or one of our LARGER BAND formats, we guarantee your guests will be raving about the band for weeks after your party.
Always included along with our fabulous live dance band performance is our live DJ service with DJ BONGOGIRL pumping the beat. With hundreds of musical selections at her fingertips, DJ Bongogirl will keep the party hopping whenever band is not performing.
We offer personalized customer service prior to the performance to help you plan your event. From your first call to our office we will "Wow" you with our professional approach and attention to detail to ensure that your Toronto Event is a highlight of the year!
Our versatility, class, musicianship, experience and customer service are all, quite simply, unbeatable. We have several hundreds of delighted clients who recommend and refer us, many of which have taken the time to write to us to let us know. READ SOME OF OUR CLIENT TESTIMONIALS. We believe that word of mouth is always our best advertising!