Toronto Musician Duo
Don't let the size fool you – our Dynamic Duo  delivers BIG sound and awesome stage excitement!This Toronto Musician Duo will absolutely "Wow" your crowd!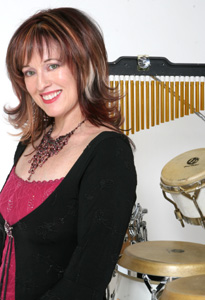 Heather Arden Roy
Lead Female Vocals / Percussion – Congas /Bongos, Stand-up Drum Kit / Harmony Vocals and DJ BongoGirl
Heather has a unique five octave vocal range. She sings in a dizzying array of styles and genres. She sweeps from sultry jazz to crystal clear opera and celtic. Then she puts on her "powerhouse" vocals for R & B, rock and all styles of dance music.
Heather is also a dynamic percussionist. She plays congas, bongos and a full stand up percussion kit to give The Royz Band a driving, energetic and unique sound.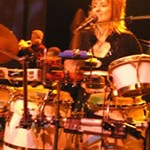 Heather began her musical career at the age of 14 with regular performances on CBC TV in Montreal. After moving to Toronto her unforgettable voice has made The Royz Band one of Toronto's most acclaimed and in-demand bands.
Heather is a member of The American Federation of Musicians, New York Local 1000

André Roy
Lead Male Vocals / 6 & 7 String Guitars / Bandleader / Musical Arranger / Harmony Vocals
André is  one of only a handful of 7-string guitarists in Canada. He is also a crooning, grooving, rocking versatile vocalist.
As the musical arranger for The Royz Band, André's commitment and dedication to every form of music has given The Royz Band a unique and world class sound. His musical finesse always creates the perfect ambiance for any venue. He will simultaneously inspire music aficionados, get dancers on their feet……. and totally rock the house.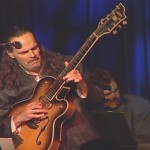 Originally from Montréal, Canada. André began performing and touring with  recording artists while still in his early teens. He majored in music at McGill University in Montreal. He was then awarded a prestigious Canada Council grant to further his music study at the world-renowned Berklee College Of Music in Boston.
André is completely bilingual in both French, and English. Andre is a member of The American Federation of Musicians, New York Local 1000
And, if you are looking for a larger Toronto band format we also offer our Incredible Trio which adds saxophone and flute.
Or you can choose one of our Larger Band formats which goes from a 4 piece band all the way up to our Fabulous Royz Big Band