Live Wedding Cocktail Music Toronto
The Royz Band offers a huge selection of music for the mixing and mingling of your Toronto wedding cocktail reception.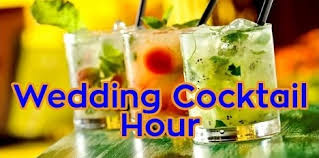 The cocktails will be a time of celebration and anticipation for the festivities to come. Your guests will be talking about the ceremony, and greeting other guests – some of whom they maybe haven't seen in years.
There will be laughter and relaxation – the ceremony is over, you did it! You actually got married! It's happened!
Your guests are looking forward to speaking to you personally, to congratulate you, tell you how happy they are for you, and to be a part of this amazing wedding day.
We will perform a wonderful selection of upbeat music that will relax those jangled nerves and create the backdrop for the fun to come.
The music can continue along from the classical vein of the ceremony, or the musicians can switch to jazz guitar and sax (soprano, clarinet, tenor) to create an upbeat, swingy, happy feel to accompany the mood.
Jazzy Cocktails will be an assortment of jazz and swing in an upbeat feel to put your guests in the mood. This choice is perfect if you want an "uptown" kind of feel, with a martini twist
Classical Cocktailswill be a wonderful selection of classical pieces to relax those jangled nerves and create the backdrop for any event where you want the music to be soothing and upscale
Hip Cocktails will be an eclectic mixture of all styles of music, with or without vocals. We can throw in some blues, pop, alternative, along with classical and jazz background music that will keep your guests surprised and delighted
If the cocktails are being served in the same room as the band stage set-up, the band can perform from the stage for your live wedding cocktail music Toronto
Package Option: If you prefer to save all your live performance hours for later, the cocktail music can be supplied FREE through the DJ service
Cocktails & Dance Style Receptions
These are becoming a very popular choice for many couples.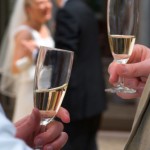 It's a wonderful way to have a different kind of wedding reception in which there is no sit down dinner served, but rather, lots of food being passed or food stations.
This style of wedding format can give a casual feel to the wedding, and yet still be elegant and provide all the elements of a traditional ballroom style wedding, but without the "sit down dinner" element.
With our huge versatility, we will seamlessly move your guests from the solemnity of the ceremony, through cocktails and conversation, and finally into a dance party to let loose and have fun.
Remember, ALL of our wedding packages include DJ BONGOGIRL to cover all times the band is not performing!