Royz Band Toronto Musicians
The Royz Band performs in a variety of Toronto musician formats to suit every event and budget.
Dedicated musicianship, great customer service and experienced event planning are all part of The Royz Band's philosophy.
The Royz Band performs in Toronto and the Greater Toronto area for a huge variety of events.  The band has performed for thousands of Weddings, Black Tie Galas and Fundraisers. They are the band of choice for Society Functions, Corporate Events, Dinner Dances and Dance Parties. Plus, they perform for Concerts, Award Shows, Private Clubs, Mitzvahs and so much more.
This Toronto based live band has amassed a huge repertoire and a reputation for dedicated musicianship. They have been featured on CityTV, Much Music, The New Music, CHUM Radio, Radio Canada, CBC TV, Rogers Television. They have also been featured in publications such as NOW Magazine, The Toronto Star, The Montreal Gazette and Wedding Bells.
The Royz Band is on the referral list for top Toronto hotels & banquet facilities and is the most referred and reviewed live Toronto Dance Party and Events Band.
Further, the band can emcee fluently in English, French and Italian.
Whether your Toronto event is an intimate gathering of 30 close friends or a huge function with 5000 guests attending. The Royz Band guarantees that your guests will be absolutely raving about the band!
Toronto's most recommended and in-demand live band offers unparalleled versatility, repertoire and musicianship. Plus, they offer a wide variety of band formats to fit any budget or room size!
Choose our Duo, Trio or Fabulous Big Band
The same huge repertoire is available in ALL our live band formats. So simply choose the size of band that best suits your space and your budget.
For smaller events, smaller spaces or smaller budgets, our Dynamic Duo or our Incredible Trio is perfect!
If you need a mid-size Four or Five Piece Band.  Oh yes, The Royz Band offers that!
And if you need a larger Six, Seven or Eight Piece Band for a big event? Absolutely,  The Royz Band offers all those formats!
In fact, for big events with thousands of guests, or big stages and budgets, we can easily expand up to an Eight, Nine or Ten Piece band with our Fabulous Royz Big Band.
ALL OF OUR LIVE BAND FORMATS COME WITH OUR ALL-INCLUSIVE PERFORMANCE PACKAGE
Our All-Inclusive Package includes:
Your choice of band size and number of hours of performance
Top of the Line Professional sound system to provide clear and gorgeous sound
Dynamic Stage lighting
All Sound and Light equipment professionally installed prior to your guest arrival
DJ Service if/as required whenever the band is not performing. This live mix DJ service ensures not only non-stop musical coverage throughout your event, but also that ALL requests can be covered
Fully covered with $1,000,000.00 Commercial Liability Insurance
OUR LIVE BAND FORMATS:
The same huge and versatile repertoire is available in ALL of our band size formats. Simply choose the best Toronto live band format that works best for your budget and space.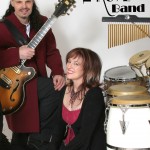 Don't let the size fool you! Our Dynamic Duo  delivers BIG sound and awesome stage excitement!This Toronto Musician Duo will absolutely "Wow" your crowd! Heather Arden Roy   Lead Female Vocals, Congas, Bongos, Stand-up Drum Kit Heather has a unique five octave vocal range and sings in a dizzying array of styles and …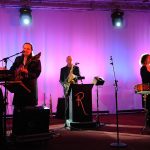 This unique and in-demand Trio packs a  huge live band sound and look into a uniquely versatile, flexible and value packed smaller band format. The Incredible Trio Toronto musicians are the nucleus of The Royz Band. All three are  exciting & dynamic multi-instrumental musicians & vocalists. The Trio offers big sound, amazing vocals, huge repertoire, flawless musicianship and …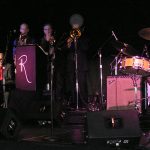 The Fabulous Royz  Big Band. Yes, our Dynamic Duo and our Incredible Trio formats both offer a Big Band sound in a small band format. However, if you have the budget and space, nothing beats the excitement of a lot of amazing Toronto musicians on stage. Each adding their own personal magic to the performance …