Our Exciting, Incredible Toronto Music Trio
Our incredible Toronto music Trio format adds exciting and soulful sax to our popular Dynamic Duo format.
Both our Dynamic Duo and our Incredible Trio formats  offer a Big sound in a small band format. In fact, our smaller band formats are clearly the best choice for many events. Because they deliver all the sound and exciting performance of a larger band, but without the cost, space and volume.
Our unique and in-demand Toronto music Trio has the full sound of a standard 5 piece band. In fact, our Trio is one of the most popular options for clients looking for a big band sound with a smaller band format.
Small Band, Big Sound
The Royz Band Incredible Trio packs a  huge live band sound into a versatile, flexible and value packed  smaller band format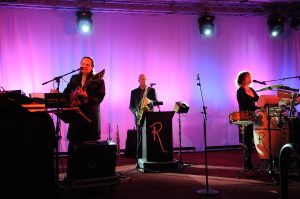 All three of The Incredible Trio musicians are  exciting & dynamic multi-instrumental musicians & vocalists.
They deliver a big sound, amazing vocals and flawless musicianship.
Of course, The Incredible Trio is absolutely perfect for events where there may be space, volume or budget constraints.
However, The Incredible Trio can also totally thrill events with several hundreds, or thousands, of guests in attendance. They will completely fill any size stage with their energy, talent and extraordinary musicianship. In fact,  our music trio is often booked for events that traditionally have a much larger band, and always to rave reviews!
Masterful Musicianship
The Royz Band Incredible Trio musicians are all acclaimed for their musicianship.  In fact, all three are full-time, professional and dedicated musicians.  As a result, the band performs all styles of music with authenticity, and also with artistry!
Collectively the band members have studied at North America's premiere music schools.  Most notably, they have studied at  McGill University in Montreal,  Humber College of music in Toronto  and Berklee College of Music in Boston, .
The Instrumentation for The Incredible Trio is an unbeatable combination of elements, including:
world-class musicianship with fun and dynamic stage personalities
multi-octave female vocals & percussion
grooving male vocals &  7-string guitar
soulful sax & flute & backing vocals
Our Incredible music Trio comes with everything included our all-inclusive performance package
The band has also embraced all the new technologies that are an integral part of  today's modern dance music and utilized by all of today's top performing artists.
The Incredible Trio combines the talents of:
Heather Arden Roy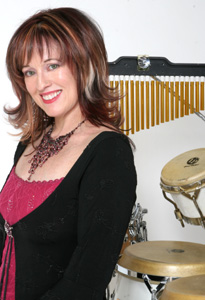 MULTI-OCTAVE LEAD VOCALS & BACKING VOCALS
DRUMS AND PERCUSSION
DJ BONGOGIRL
EMCEE
Now based in Toronto, Calgary native Heather Arden Roy began her musical career in at the age of 14 with regular performances on CBC TV in Montreal.
Heather has a five octave vocal range and sings in a dizzying array of styles and genres. She sweeps from sultry jazz to crystal clear opera and celtic, then puts on her powerhouse vocals for R & B, rock and all styles of dance music.
Heather is also a dynamic percussionist – playing congas, bongos and a full stand up percussion kit to give The Royz Band a driving, energetic and unique sound.
Heather is also DJ Bongogirl – mixing and pumping the beat when the DJ system is in session.
André Roy
LEAD VOCALS & BACKING VOCALS
CLASSICAL GUITAR
6 & 7 STRING ELECTRIC GUITARS
MUSICAL ARRANGER
BAND LEADER
Originally from Montréal, André began performing and touring with Québec recording artists while still in his early teens.
André majored in music at both Vanier College and McGill University in Montreal before being awarded a prestigious Canada Council grant to further his music study at the world-renowned Berklee College Of Music in Boston.
It was at Berklee that André was introduced to the 7-string guitar by one of his professors who recognized Andre's unique musicianship and became his mentor. Now based in Toronto, André is one of Canada's few 7-string guitarists – and a crooning, grooving, rocking versatile vocalist.
As the musical arranger for the band, André's committment and dedication to every form of music has given The Royz Band a sound that will simultaneously create the perfect ambiance, inspire the music aficionados, get the ballroom dancers on their feet……. and totally rock the house.
André is completely bilingual in both French and English.
John Pagnotta
TENOR AND SOPRANO SAXOPHONES FLUTE
PERCUSSION
LEAD AND BACKING VOCALS
John's outstanding musical talent adds immeasurably to The Royz Band whether he is the third integral member of The Incredible Trio, or as the leader of the horn section with The Fabulous Royz Big Band.
Born and raised in Toronto, John has worked professionally as a studio session player and has toured and performed with numerous bands and musicians in North America.
John is currently on faculty at the Claude Watson school of Performing Arts where he teaches Jazz Band, running class ensembles of 18 to 24 pieces. The Jazz Report credited the school's program as the "Top Jazz program in Canada."
John's depth of musicality is truly amazing as he switches from lead and harmony vocals to sax, flute & percussion, bringing passion and musical energy to every song and every genre. John also speaks Italian fluently, and performs all lead Italian vocals for The Royz Band.